Open Evening 2022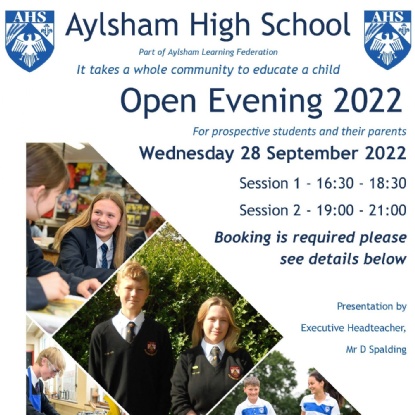 Year 6 Open Evening – Wednesday 28th September 2022 – booking is required
I am writing to invite you and your year 6 child to our open evening which will take place at Aylsham High School on Wednesday 28th September.
There are two pre bookable timed sessions for you to choose from, session 1 will run 16:30 – 18:30 and session 2 will run 19:00 – 21:00. There will be a limit to each session of 400 people. You will need to book a space for each person attending, including your children.
Please follow the links below to book your spaces:
Session 1 16:30 – 18:30 https://www.eventbrite.co.uk/e/418860010567
Session 2 19:00 – 21:00 https://www.eventbrite.co.uk/e/418853250347
As your child is currently in year 6 and moving to high school next year this evening will give you an ideal opportunity to see what Aylsham High School can offer. There will be a presentation in the main hall at the start of the session and I will be pleased to introduce you to our school and share examples of our achievements and our aspirations for the future. Our head boy and girl will also be talking to you about their time at the school. You will then be able to visit individual departments where displays and activities will be available for you to enjoy. At the end of your session we do kindly ask that you leave the site promptly.
The sessions will start on the dot, so please ensure you allow enough time for parking that you can be seated in time for the start of your session.
We will have students on duty to help direct you to the various parking options which will include the school car park accessible through the Bure Meadows development. We politely ask that you do not park on the grass verges near the school.
Unable to attend the open evening
If you are unable to attend but would like to arrange a tour of the school please complete the form on our website https://www.aylshamhigh.com/tourofschool
We do hope that you will be able to join us and look forward to meeting you.
Yours sincerely
Duncan Spalding
Executive Headteacher