My Fair Lady 2020 - not to be missed!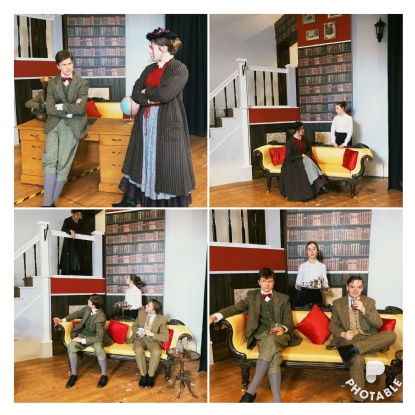 My Fair Lady 2020 promotional article - By Alfie Penfold
Hello! It's my pleasure this year to introduce you to the Aylsham High musical production of 2020. If you live in or around town you may have already seen advertising for My Fair Lady running 11th-14th March 2020, and already the rehearsal and set-design process is well under way. This show is one of the most fabulous and visually stunning that we have ever done, and credit as always goes to our fantastic director Hazel Martin and executive producer Tanya Wiseman, as well as all of our backstage crew and set-builders who work so hard every Saturday to get the stage ready for show-week.
This time, as well as the honour of being the Class of 2020's Head Boy, I'm lucky enough to be playing the role of Professor Henry Higgins in My Fair Lady. This musical is known the world over and beloved by millions of fans - it's a gorgeous, glorious tour of eccentric and eclectic characters who will make your eyes boggle and your belly ache with laughter, really one for all the family and something which will win over even the most miserly theatre-goer!
The story itself is written into theatrical folklore. Eliza Doolittle is a downtrodden flower girl, eking out a meagre living on the corner of Tottenham Court Road. She is spotted by two passing gentlemen, namely Higgins and Colonel Hugh Pickering, both highly-venerated grammar and speech experts. Via a series of unforseen coincidences, they make a bet to transform Eliza into a refined and perfectly-pronounced lady of high-society, complete with both immaculate speech and a vast array of stunning evening gowns. Their adventures, together with a delectable set of supporting characters - such as Eliza's slapdash dustman father Alfred - are both charming and thought-provoking. But you'll have to buy your tickets to find out any more!
Tickets are £11 and you can get them from the Aylsham High School reception on Wednesdays from 12.35-13.20, or alternatively you can purchase tickets at any time online, via the link below.
https://www.ticketsource.co.uk/whats-on/norwich/aylsham-high-school/my-fair-lady/e-rjqbjv
We do hope you can come and support us; we'd love to see you there!