SEND
AHS Local Offer
SEND INFORMATION REPORT AYLSHAM HIGH SCHOOL 2019-2020
Welcome to the Special Educational Needs Information Report for Aylsham High School. This report forms part of the Norfolk Local Offer for learners with Special Educational Needs. The Norfolk Local Offer outlines the provision available in our area across education, health and social car for children with SEN. It can be found by clicking on the image below.
All governing bodies of maintained schools and maintained nursery schools have a legal duty to publish information on their website about the implementation of the governing body's policy for pupils with SEN.
The information published must be updated annually. The required information is set out in the SEN regulations which can be found here.
Who to Contact
Aylsham High School is a mainstream 11-16 comprehensive secondary school which admits students to the school in line with the school's admissions policy. The school believes that all children and young people are entitled to an education that enables them to achieve their potential. The school has a strong commitment to working in partnership with students, parents, carers, governors, our cluster schools and the local community. Together we afford our students the opportunity to make progress in all areas and fulfil their potential and expectations. This report has been produced with involvement from these stakeholders.
Who to contact in school in the academic year 2019/2020 regarding Special Educational Needs:
SENDCo: Mrs K Garnham
Assistant SENDCo: Mrs S Heys
Headteacher: Mr D Spalding
SEN Governor: Mr M Downes
Chair of Governors: Mrs J Youngs
If you have any specific questions about any aspects of this report, please contact any of the above on 01263 733270. Alternatively, you may wish to visit the Norfolk County Council website www.schools.norfolk.gov.uk
OUR APPROACH TO TEACHING STUDENTS WITH SEN
Aylsham High School takes a whole school inclusive approach to students with special educational needs, recognising that the aims of the school are the same for all students, whatever their abilities.
We strive to create a learning environment that is flexible and creative and meets the needs of all members of our community. We continually monitor our pupils' progress and formally report on this to parents/carers on a termly basis through whole school monitoring systems. Students with EHCP/Statements have an annual review meeting with parent/carer and relevant Local Authority representatives as well as any outside agencies working with the student.
Our school's Improvement & Development Plan outlines the training and development of the school and its learners over the next academic year. The school has also produced a document called "A Framework for Excellence 2020" which is a longer term sustainable strategy for the school and its students. Both of these documents are available on request from the school and can be downloaded from the front page of our website.
The priorities of the school are:
Quality Assurance of Teaching and Learning and Performance Development
Supporting Students' Learning and Student Leadership of Learning
Assessment for Learning, Differentiated Challenge, tracking and Assertive Intervention
Curriculum and Independent Learning
Collaborative Partnerships
If you have any concerns about your child's progress you should contact the SEND Department in the first instance.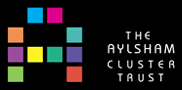 It Takes a Whole Community to Educate a Child
Aylsham High School is part of the Aylsham Learning Federation and Aylsham Cluster Trust. ALF schools and Aylsham Cluster schools have been working together to transform education for children and families in the Aylsham area.
SENDCOs meet regularly to discuss the needs of the children and young people with SEND in the cluster and work collaboratively to support their needs. This especially important around transition.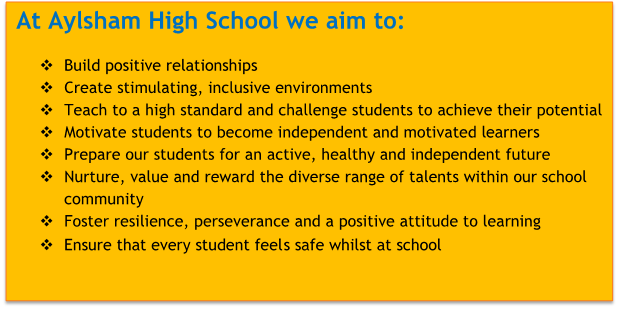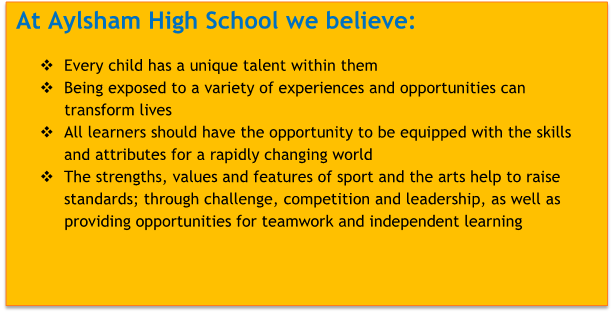 All staff are aware of the SEN Code of Practice 2014 and that special education needs and provision can be considered as falling under four broad areas:
Communication and interaction
Cognition and learning
Social, mental and emotional health
Sensory and or physical
Staff work closely with parents and the young person to identify what support is needed, what the specific barriers to learning are and to understand why a student may not be making progress. This can happen in many different ways such as:
Liaison with the student's previous school
Attending Annual Reviews of Statements/EHCPs at Primary Schools
Having transition meetings/conversations with both SENCOs and class teachers from Primary School
Primary School assessment data
Discussion with school staff who may raise concerns
Liaising with parents who may raise concerns
Liaising with external agencies
"A child or young person has SEN if they have a learning difficulty or disability which calls for special provision to be made for them."
Children & Families Act 2014
A child of compulsory school age or a young person has a learning difficulty or disability if they

If a learner is identified as having SEN, we will strive to deliver provision that is additional to or different from 'the normal differentiated curriculum intended to overcome the barrier to their learning'.
At Aylsham High we are ambitious for all our students fostering a positive approach to any difficulties they may have, working with them on their strengths and their weaknesses. We always encourage a positive approach to learning and life.
Some students may be identified as being vulnerable; this does not necessarily mean they have an SEN. Only those with a learning difficulty that require special educational provision will be identified as having SEN.
A child or young person does not have a learning difficulty or disability simply because the language in which they are taught in is different from the one they speak at home.
We may need to seek advice from specialist teams for some students such as Educational Psychology, Engage, Dyslexia Outreach, Speech & Language, Benjamin Foundation, School 2 School, Virtual School for Sensory Support or Occupational Therapy. If appropriate we will refer to agencies such as Access through Technology who may supply laptops for students who have difficulties with fine motor control. The Virtual School for Sensory Support may supply equipment for visually or hearing impaired students based around their individual needs as well as visiting specialist teachers working with students on a 1:1 basis. We also have a range of assessment tools such as WIAT, WRAT 3, DASH, TOWRE, SPARCs, Dyslexia Portfolio and Visual Stress Assessment that qualified members of the SEN team are able to use to assess students. We have access to services universally provided by Norfolk County Council which are described on the local offer website which you can access from the link on page 1 of this report.
The needs of learners with special educational needs at Aylsham High School for the year 2018/19 were made up as below: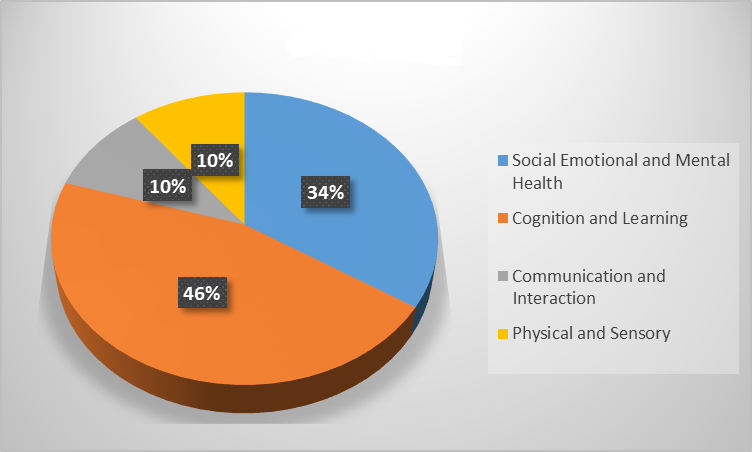 Aylsham High School currently employs 27 Learning Support Assistants (LSAs) (this equates to 20 full time positions), who deliver specific interventions in small groups, in class or to individual students; 12 are part time and 14 are full time. Three full time Teaching Assistants (TAs); one works in our Nurture provision and also coordinates and oversees the literacy intervention, one runs our Link Room and the other monitors the provision for Looked After Children. We also employ an Assistant SENCo and a head of Nurture provision. Our team has highly qualified staff with a broad range of experiences and qualifications. Two members of the team are qualified to assess students for examination access arrangements. The SENCo holds the National Award for SEN Co-ordination and has considerable experience in the field of SEN and delivers CPD to staff on a regular basis. Deployment of these staff is outcome driven and outlined in the provision mapping process within the department.
HOW WE SUPPORT LEARNERS WITH SEN
At Aylsham High staff are expected to adapt the curriculum and their teaching style to ensure access to learning for all students in the class. The Teacher Standards 2012 details the expectations on all teachers. At Aylsham High we are proud of our staff and their continued professional development.
Our teachers use a variety of strategies to enable access to the curriculum and ensure maximum engagement of students. These may include:
Nurture Group
Supported groups
Withdrawal for 1:1 and small group intervention
Differentiation
Visual timetables
Writing frames
iPads, Laptops, Dictaphones, Reading Pens
Peer Coaches & Friendly Faces
Positive behaviour rewards system
Practical learning tasks
Questioning techniques
Pace and challenge activities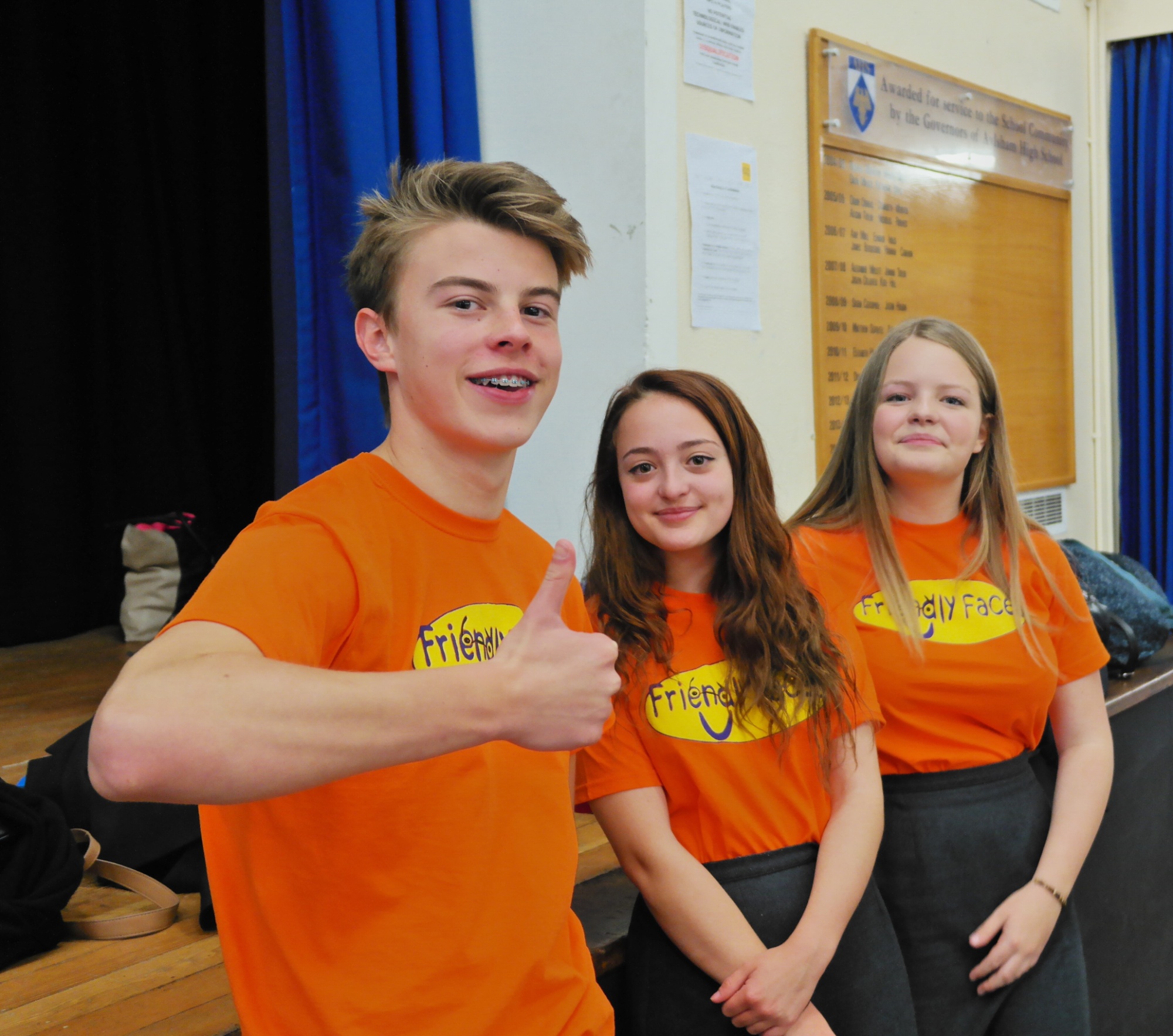 Those leaners that are identified as having SEN are entitled to support that is 'additional to or different from' a normal differentiated curriculum. The way that this support is given will be dependent on the individual needs of the student.
Some students will have Individual Learning Passports written with them by a member of the SEN team and shared with parent/carers, teachers and support staff as well as being available on the school management system and SLG.
Some students may require access arrangements for examinations. All students in Year 9 are screened for access arrangements. Our in house team of qualified assessors will then make applications to the relevant exam boards for those students whose scores and history of need allow. The final decision is that of the exam board. Not all students who qualify for access arrangements will have a special educational need.
The Link Room
The Link Room is managed by our Link Room Officer who liases with Heads of House, SENDCo, subject teachers and pastoral staff regarding any students who are experiencing difficulties in some aspect of either their personal or school life. Whilst in the Link Room they will be expected to complete either work set by their class teacher or in some cases work set via EdLounge.
The Link Room is also open before school, at break and lunch times to support students who are feeling emotionally vulnerable. There is a Link Room Captain who takes responsibility for organising activities during these times, they are supported by prefects. An After school session is also held once a week for any student to come in for homework support.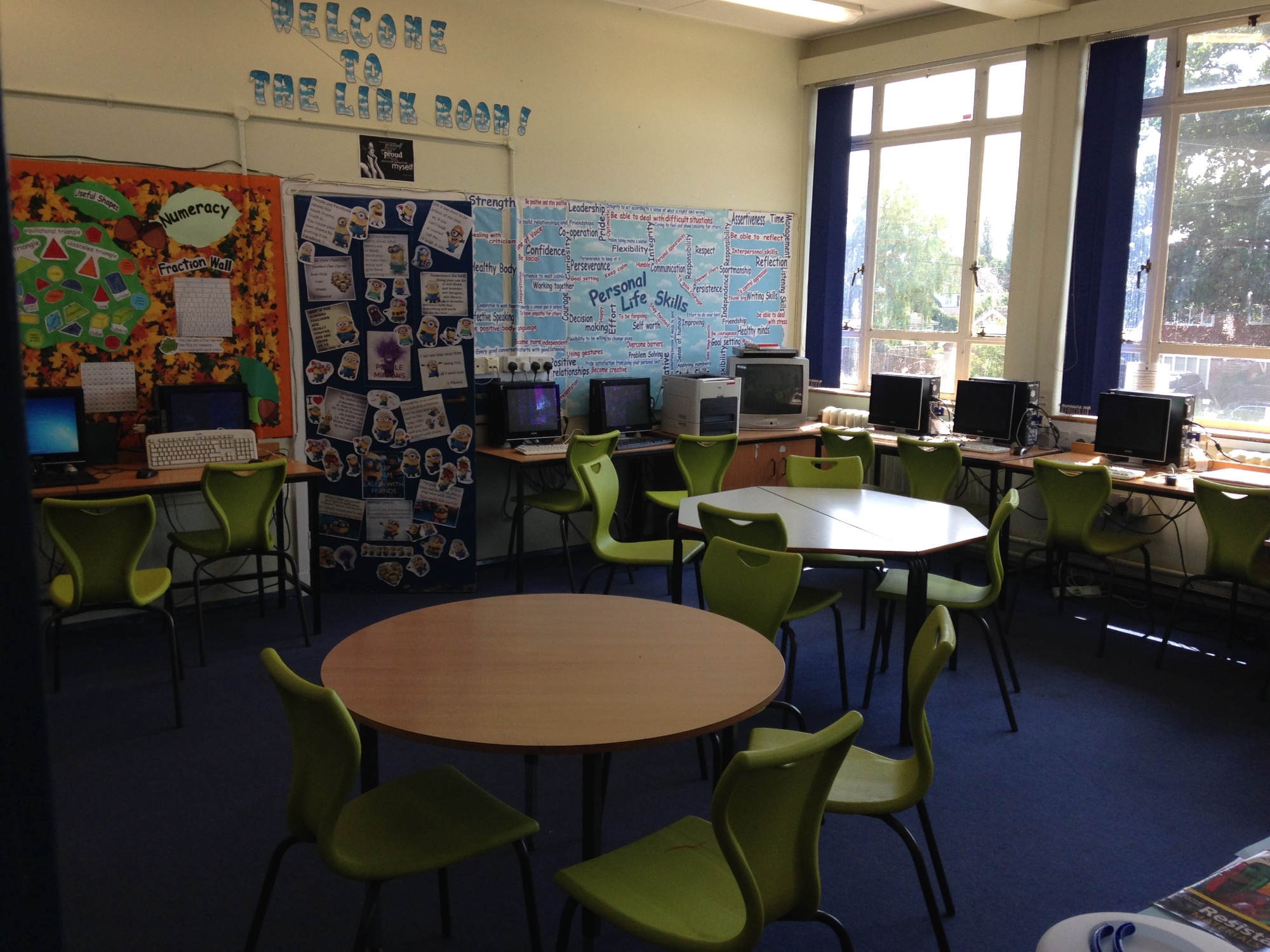 Nurture
The Eagles is a small supportive class of up to fifteen students run by ex-Primary School teacher and Nurture trained Mr. Sweatman and supported by at least two learning support assistants and a lead intervention teaching assistant. The students are carefully selected according to their individual holistic profile of needs identified from Primary School and Parents/Carers, as well as using the Boxall Profile assessment tool. Parents/Carers are invited in to school to meet with the Nurture team prior to induction days.
The group incorporates the six principles of Nurture;
Children's learning is understood developmentally
The classroom offers a safe base
The importance of nurture for the development of self-esteem
Language is a vital means of communication
All behaviour is communication
The importance of transition in children's lives
Our aim is to. . .
improve attendance and attainment by building confidence and self-esteem;
support parents and carers to become real partners in education;
empower staff as they see the progress the students are making;
promote inclusion, making AHS a place where all children can flourish;
teach students how to make good relationships with adults and each other;
ensure students have the opportunity to return to our mainstream setting
Year 7
60% of The Eagles curriculum time is spent in the Nurture room where we teach; Writing, Reading, Mathematics, TITAN programme, Art, Creativity, PSHCE, SEAL, Memory Skills, Fine and Gross Motor Skills and I.C.T skills.
The Eagles also get the opportunity to develop their skills with other members of staff outside of the Nurture room when participating in; Science, R.E, P.E, History, Geography, Music, I.C.T, R.M, Textiles, French, Catering and Enterprise.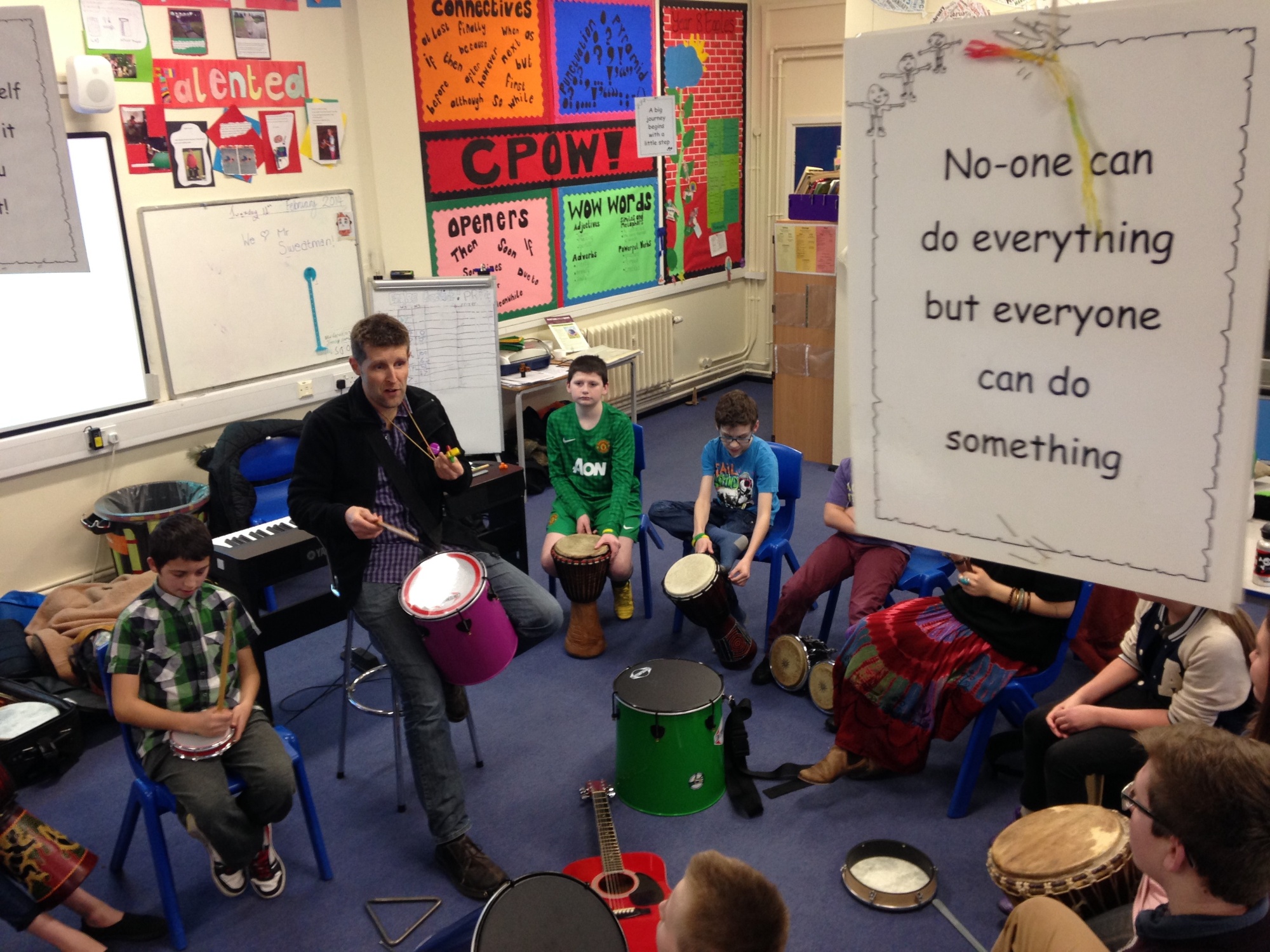 Year 8
20% of The Eagles curriculum time is spent in the Nurture room where we teach;
Writing, Reading, TITAN programme, PSHCE, SEAL, Art, Memory Skills, Fine and Gross Motor Skills and I.C.T skills
The Eagles also get the opportunity to develop their skills with other members of staff outside of the Nurture room when participating in; Science, P.E, French, Music, I.C.T, Textiles, R.M, Enterprise, Mathematics, Geography, History, Textiles, Art, Catering, Drama and R.E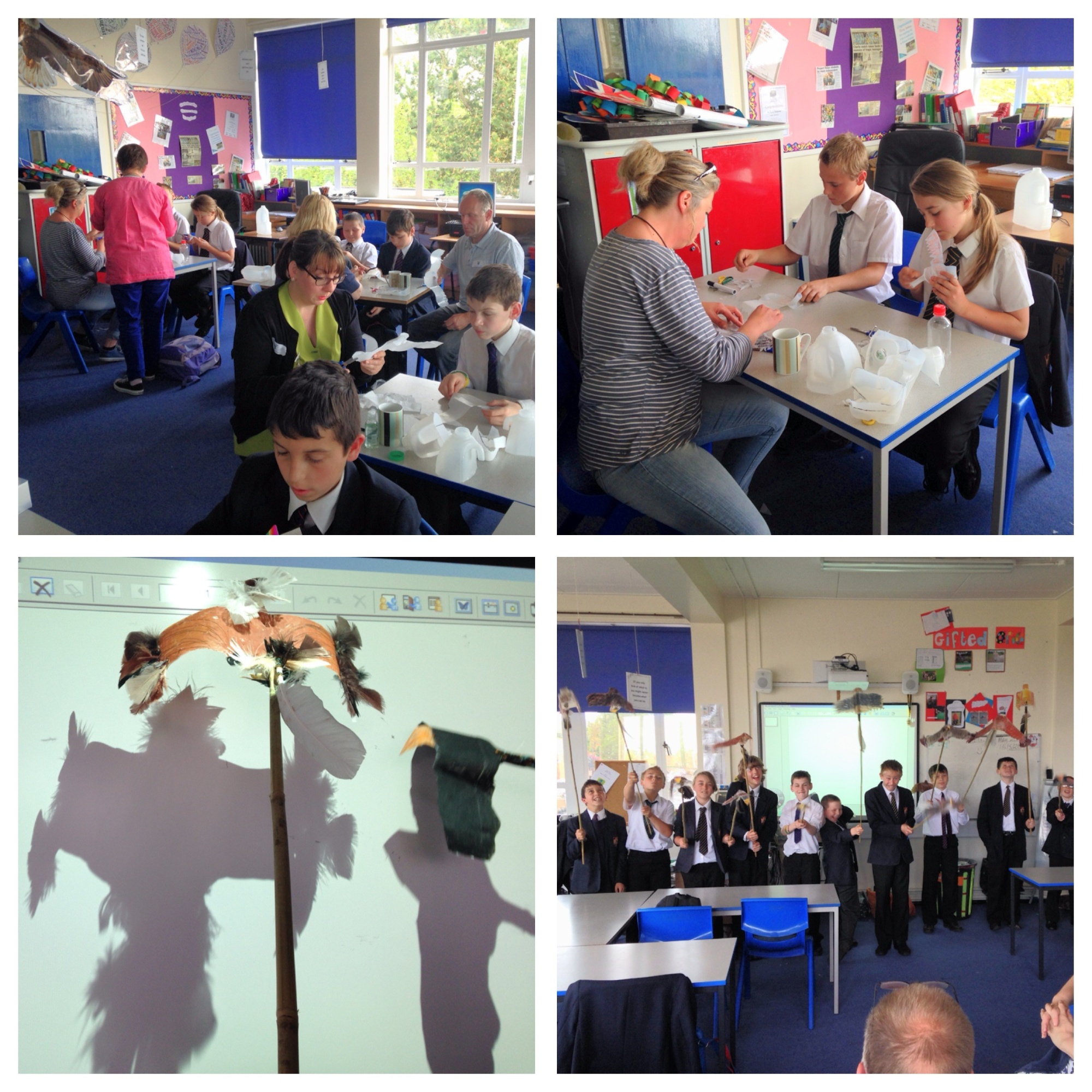 Curriculum
Most students in Year 7 and 8 will follow the same curriculum. Some students in the Nurture class may not study a language. When students start year 9 they will follow one of two pathways either the foundation pathway where they choose two option subjects or the English Baccalaureate pathway where they will complete a foundation year in subjects such as history, geography and French and take one option subject before deciding which of these subjects they want to study further at GCSE level. The options offered to the foundation pathway students are usually at a lower level and include Entry Level resistant materials, ICE (Independence, Confidence, Employability), hair and beauty and a two-year course run in partnership with Sidestrand Hall School offering students the chance to study construction and motor mechanics. Many of our special educational needs students will then go on to study GCSE subjects in year 10 and 11 and we will do our best to support them through the course.
Extra-Curricular Activities
The school offers a wide range of extra-curricular activities and believes that all students have the same opportunities to access these. We will make any reasonable adjustments to ensure that we comply with the Equality Act 2010 to meet our students' needs. Students with special educational needs are encouraged to take part in extra-curricular activities.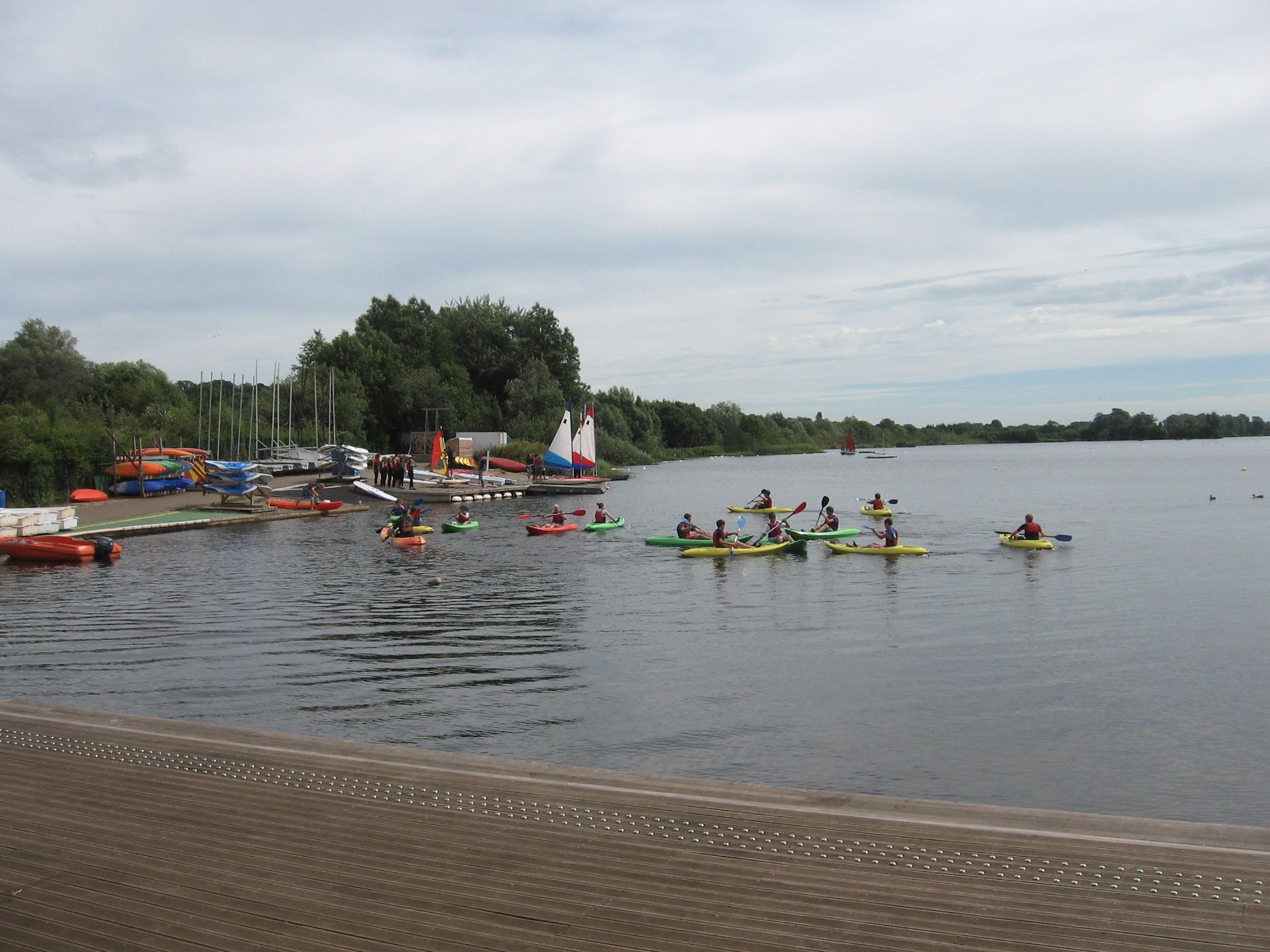 Transition to Post 16 Provision
Transition is an important stage in all young people's lives. We will liaise with young people, parents/carers, post 16 providers and guidance advisors as to the most appropriate courses and placements for young people with special educational needs. We are able to refer to the TITAN Buddy scheme if this is felt necessary with regard to transport. We can arrange for the young person to have additional visits to their new placement. Aylsham High School will ensure that all young people with special educational needs complete applications, attend interviews and secure placements at a post 16 provision.
Looked After Children
Young people who are in the care of the local authority and who also have a special educational need will receive support appropriate to their specific need. The SENCo and Looked After Children's Teaching Assistant will liaise with carers and social workers. They will attend PEP and LAC Review meetings as required.
Funding for SEN
Aylsham High School receives funding directly to the school from the Local Authority to support the needs of the learners with SEN. This is described in the SEN memorandum. The amount of funding we received for 2018-19 £231,198
The Aylsham High School also receive funding from the Local Authority which is distributed as 'top-up' funding for learners who require support that exceeds that available to the school. This funding for 2018-19 was £103,478
Professional Development for Staff at Aylsham High School
The School recognises that high-quality training is vital for all staff. In 2018-2019 there are monthly staff department meeting devoted to SEN. Issues relating to SEN are discussed and shared in weekly meetings as necessary, for example, the introduction of new documents and any proposed changes to practice.
During 2017-2018, Aylsham Cluster Trust have arranged a programme of training for all staff related to a range of special educational needs. This topics included in this training will include: strategies and activities to support children with speech language and communication needs, strategies to support behavioural needs, Autistic Spectrum conditions including ASD in girls, bereavement, mental health and attachment disorder.
How do we find out if this support is effective
Monitoring children's progress is an integral part of teaching and leadership within Aylsham High School. Parents/carers, pupils and staff are involved in reviewing the impact of interventions for learners with SEN. We follow the 'assess, plans, do, review, model and aim to involve parents/carers and children in each step. When additional provision is selected to help a child, the SENCo, Teacher, parent/carer and learner, agree what they expect to be different following this intervention. A baseline will also be recorded, which can be used to compare the impact of the provision.​​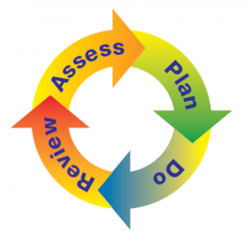 Children, Parents/carers and their Teaching and Support Staff will be directly involved in reviewing progress. This review can be built in to the intervention itself or can be a formal meeting held regularly, where we can all discuss progress and next steps. If a learner has an Education Health and Care Plan (EHC Plan) the same review conversations take place, but the EHC plan will also be formally reviewed annually.
The SENCo collates the impact data of interventions, to ensure that we are only using interventions that work. Intervention data is shared with the Aylsham Cluster so all SENCos in our cluster are able to select high quality provision.
Progress data of all learners is collated by the whole school and monitored by Teachers, Senior Leaders and Governors. We are also take part in external moderation, as part of the Aylsham Cluster and as a local authority. This ensures that our judgements stand up to scrutiny. Our school and cluster data is also monitored by the Local Authority and Ofsted.
SEN Policy
The school's special educational policy is available to download from below, or available from the school office on request. This document is updated annually.
How complaints will be dealt with
As a school we work hard to be in effective communication with students and parents/carers, and to listen and respond positively to any concerns brought to our attention. We are committed to taking all concerns seriously and would like to think that, through being open and accessible, concerns can be both raised and dealt with relatively calmly and quickly.
If the situation arises where parents have a concern about the provision being made for their child or the impact on that provision and feel that the SENCo has been unable to reassure them that needs are being met effectively, then the school's Complaint Procedure – which is available on our website or by request, sets out clearly what the steps are to draw these concerns to the school's attention.
USEFUL LINKS
Related policies:
Accessibility Plan
Anti-bullying
Cluster SEN policy statement
Complaints Procedure
SEN Policy
These can be found on our website under policies.
Reviewed: October 2019
Review date: October 2020