Exercise Classes
​Aylsham Sports Hub runs a variety of exercise classes throughout the week.
To make a booking please click here, classes can be booked up to 2 weeks in advance (members up to 2 weeks, non-members up to a week).
Please check in to the sports hub reception on arrival for all exercise classes.
£5 per class. A monthly all-inclusive membership (swimming and all classes) is available for £36.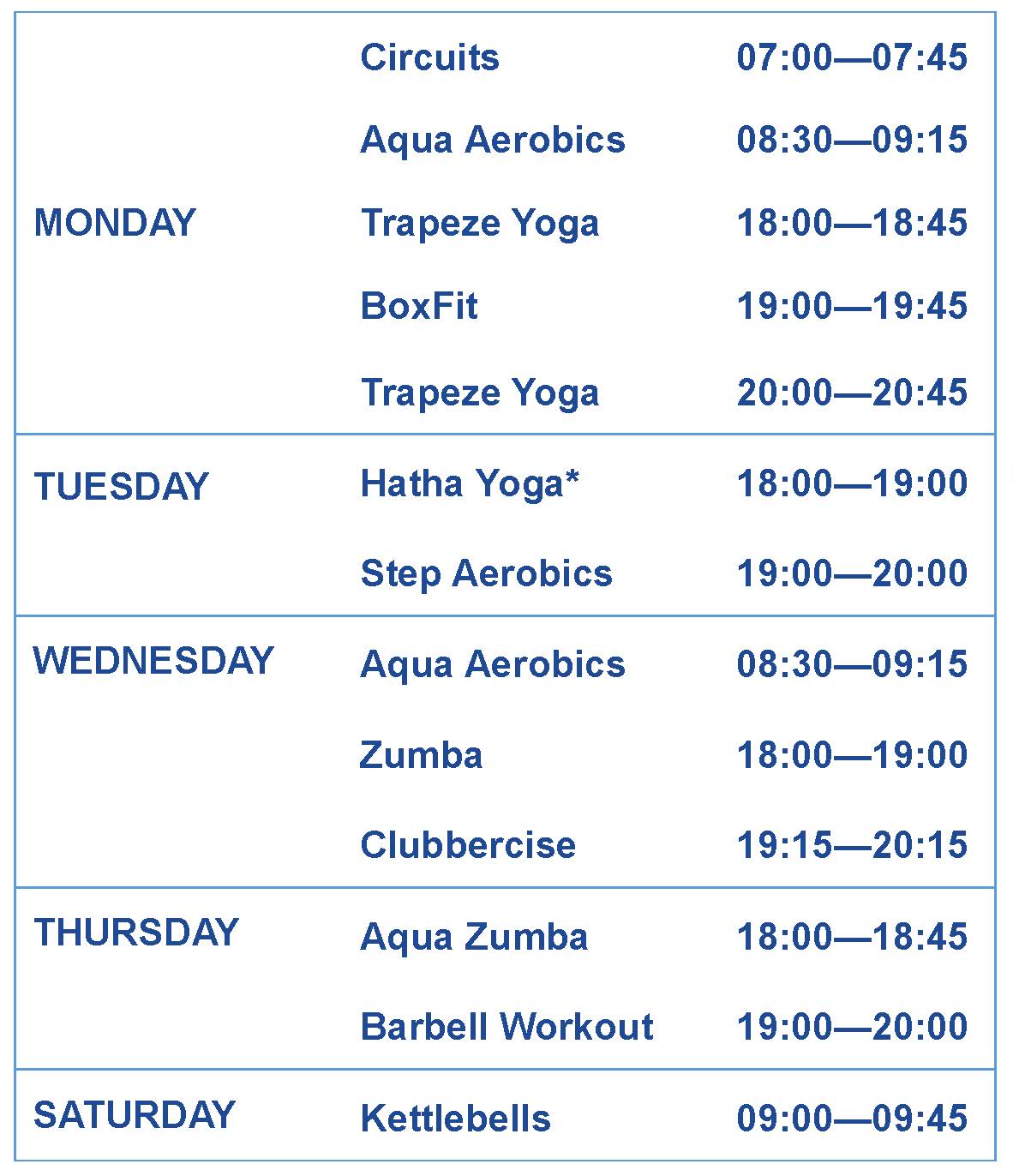 *Hatha Yoga attendees who will also be attending Step Aerobics are advised to finish Hatha Yoga 15 mins early, prior to the deep relaxation part of the session, in order to prepare for the Step Aerobics class.
Aqua Aerobics
Have a great start to your morning, work out in water and feel that sense of achievement before the rest of your day begins. Aqua aerobics is a water-based fitness class for all ages using a variety of equipment with everyone encouraged to exercise at their own level. Suitable for non swimmers as you work at your own depth.
Aqua Zumba
Aqua Zumba is perfect for those looking to make a splash by adding a low impact, high energy aquatic exercise to their fitness routine. Aqua Zumba blends the Zumba philosophy with water resistance, for one pool party you shouldn't miss.
Barbell Workout
Strength training is an important part of any fitness routine. Our Barbell Workout class effectively incorporates the use of your own body weight, a bench and a barbell to provide you with an all over workout. Please arrive 10 minutes early to set up your bench, mat and the weights you require for the session. Our instructor will assist you in choosing your equipment. Please remember to bring a small towel and water to drink.
Boxfit
Taking the discipline and control from boxing and applying fundamental movement to create an action packed, explosive but fun class, guaranteed to leave you wanting more! A great workout, suitable for all levels. All equipment supplied. Will include pad work, but no contact. Please wear normal gym gear and bring a drink.
Circuits
Circuit training is a combination of exercises performed with short rest intervals for either a set number of repetitions or a prescribed amount of time. One circuit is when all of the chosen exercises have been completed. Multiple circuits can be performed in one training session. Circuit training will usually involve 6-12 exercises and will be structured in a way that enables you to keep performing the exercise with good technique and very short rest periods.
Clubbercise
Clubbercise is a fun full body workout with a banging soundtrack from the 90s to the present day that gets great results. One session burns around 600 calories. The routines combine dance, toning and combat moves with options to suit all fitness levels. Grab your glow sticks and come and work up a sweat!
Hatha Yoga
This class will combine meditation and movement, allowing for a mind and body connection which can be lost in our hectic lives. Take time out for yourself to enjoy some gentle stretching and mindful movement. You will hopefully leave the class feeling a bit more relaxed and ready to take on the week. Please bring a yoga mat and a blanket with you.
Kettlebells
A perfect cardio workout while also building full-body strength. Our new kettlebells class is a fantastic way to train your whole body in one session. As well as giving you a more toned appearance, a kettlebells class also improves posture, co-ordination and agility and the class is suitable for all abilities. Please arrive 5 minutes early to set up your equipment. If you are new to the class our instructor can help you to select an appropriate kettlebell for your workout. Please also remember to bring a small towel and water to drink.
Step Aerobics
A fantastic workout combining cardio with toning and strengthening moves, all to well-known up-tempo songs which will get the heart pumping. Step aerobics can improve overall fitness, boost cardiovascular health, build strength, reduce fat and burn calories. Please arrive 5 minutes early to set up your equipment. Our steps can be adjusted to suit the level of intensity you are looking for from your session. Please also remember to bring a small towel and water to drink.
Trapeze Yoga
Try yoga as you probably never have before, safely suspended in a silk! Whilst only a few inches off the floor, you'll be able to explore moves and inversions that you never thought possible! A great workout, suitable for all levels. All equipment supplied. Please wear comfortable clothing you can stretch in, and bring water to drink.
Zumba
Our instructor Jemma takes the "work" out of workout, by mixing low-intensity and high-intensity moves for an interval-style, calorie-burning dance fitness party. A total workout, combining all elements of fitness – cardio, muscle conditioning, balance and flexibility, boosted energy and a serious dose of awesome each time you leave class.
To contact the ASH team please email memberships@aylshamsportshub.co.uk, call 01263 738966 or follow us on Facebook @Aylshamsportshub
Aylsham Sports Hub can be found at the end of Palmerston Way, Aylsham, NR11 6FN. A car park is available for Sports Hub visitors and members. Please click here for a map showing our location.