Religious studies
Religious Studies
All crime & punishment CK, KW and Bible refs
All human rights/social justice CK, KW and refs
All peace and conflict CK, KW and Bible refs
All religion and life CK, KW and Bible refs
Christianity CK, key words and Bible refs
Religious studies curriculum plan - September 2022
Statement of intent:
Religious studies is taught to all students in accordance with the national requirement and the Norfolk Locally Agreed Syllabus for RS. In KS3 we use the lenses of theology, philosophy and social science to investigate the answers given by religions and worldviews to questions that cover ideas from arguments about belief in God to the meaning of life. Our intention is to enable our students to become (as Sir Peter Bottomley suggests in his recent article in RE Today) "skilled intercultural navigators" who are ready to recognise and appreciate the depth and breadth of religions and worldviews practised in this country and the world beyond. The KS3 content also helps to build key knowledge and understanding (alongside the development of skills) which enables students to have the confidence to tackle the complexities of the GCSE course (studied from year 9 to11). For a detailed summary of our KS3 units, please see the table below.
Across both key stages in RS, we aim to provide a safe, respectful environment for students to investigate the beliefs of others, whilst encouraging them to reflect and evaluate their own ideas and worldview. Major contributions to the school's multicultural and citizenship education policies are also provided.
Full Course GCSE Religious Studies:
All students will study the GCSE full course in Religious Studies through years 9, 10 and 11, in accordance with national curriculum requirements that all students should study RE at this level. Amongst other skills that can be accrued on this course is the ability for students to think critically, express themselves confidently and understand different points of view to reach considered conclusions. This is a desirable GCSE to possess in many fields, especially those which involve working with people.
For a detailed summary of the content of the AQA GCSE in Religious Studies, please see the table below.
RIGHT OF WITHDRAWAL
Parents are reminded of their right to withdraw students from RS on religious grounds. Please contact the head of department in the first instance to discuss this.
AHS religious studies programme of study: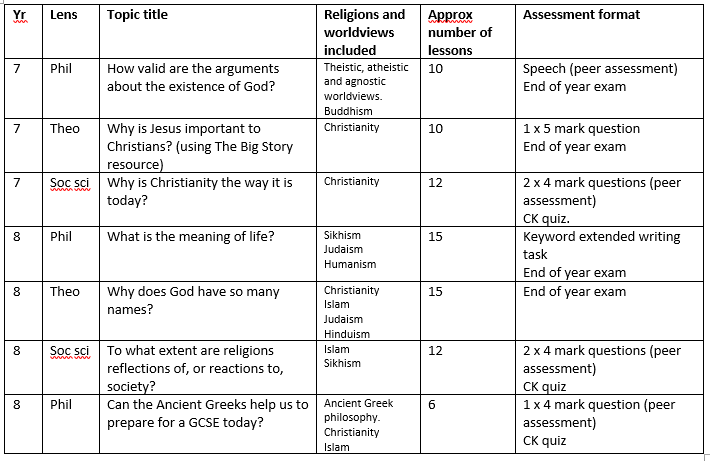 Additional lessons are used for peer review of HW tasks and revision prior to assessments as well as marking after them. These help to ensure that we are reviewing pupil learning regularly. Students can see where they are making progress and we can establish where gaps in their knowledge might be evident. The 4 and 5 mark answers are also good practice for the work they will do at KS4.
AQA religious studies A GCSE (8062) summary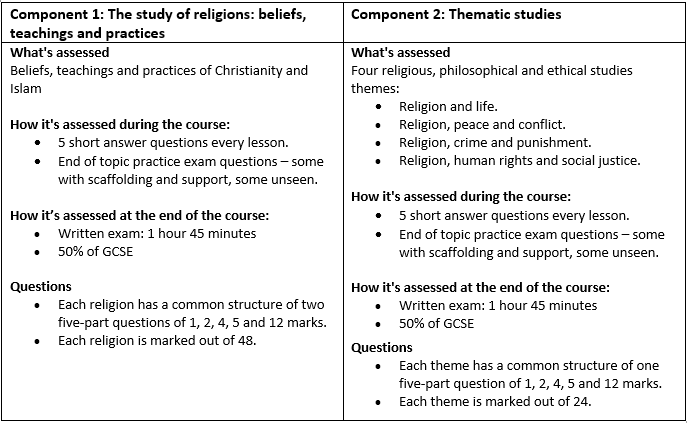 We have a good success rate at GCSE with most students achieving a grade 4 or above. Throughout the course there are opportunities for students to be able to monitor their own success and progress in short answer question quizzes and practice exam questions.
Homework
Years 7 and 8:
Once every term students will be set a creative task based around the question we are currently studying. The purpose of this is to embed key knowledge and demonstrate understanding in a creative way. These will be reviewed in lessons.
Every half term there will be a keyword and core knowledge task set on either Google classroom as a Google quiz, or on Carousel learning (an online learning site). Both these formats allow the teacher to see where the gaps in student knowledge are and to correct misunderstandings and mistakes where they have occurred. The keywords and core knowledge will be in the student workbook that they use to make their notes in during lessons. They can also be found on the school website. HW will usually be recorded on SIMS.
Students will be required to revise at home before their end of year exam.
Years 9 to 11:
Every half term there will be a keyword and core knowledge task set on either Google classroom as a Google quiz, or Carousel learning. Both these formats allow the teacher to see where the gaps in student knowledge are and to correct misunderstandings and mistakes where they have occurred. The keywords and core knowledge will be in the student workbook that they use during lessons. They can also be found on the school website.
There are also HW tasks in the student workbook for each topic. Usually these are set as practice exam questions in Google classroom but sometimes students will be required to complete them in their workbook as well. The teacher will set these at a point when it is convenient to test the students on their knowledge and understanding of an aspect of a particular topic.
Students will be required to revise at home before any exams they sit in school for religious studies.
Homework will usually be recorded on SIMS.
How is RS taught and how does learning take place?
Knowledge and understanding:
Most of our RS lessons at AHS are delivered using a power point presentation that forms the lesson plan. These contain a variety of tasks and content that students will need to engage with their learning each lesson. At the start of each lesson students are required to recall previous learning.
At KS3 we use the Cornell note-taking system in the student workbook. Recall is therefore done through completion of the summary section of the previous lesson's notes page at the start of the next lesson, by reflecting on notes taken and keywords recorded. There will be a discussion of this at the start of the lesson to check all students have the same understanding and to update those who may have been absent.
At KS4 we use a series of 5 short answer questions at the start of each lesson. These may be from a previous topic to aid with recall or they might be from the current unit depending on what is being studied. These are low stakes tests and marks are not recorded but they do help students (and teachers) to see where the gaps in their knowledge lie and to correct things that have been misunderstood or misremembered. Interleaving the knowledge in this way also helps to keep previous learning in mind.
Threshold concepts have been identified in RS. These are key learning points that students need for the future either in RS or in life in general. A summary of these can be found in a separate document (please scroll down to see this document).
Throughout lessons, the RS teachers will regularly check for understanding of the topics being covered. This is done through questioning or asking students to read their work aloud, or by the teacher checking written work as it is done. Our students are also reminded of the importance of asking for help when needed (this is one of our class expectations in RS). If they do not understand the content of what is being taught, they should seek help from their peers, their teacher, or the resources available to them in the lesson. Where students seem to be struggling to grasp a particular topic or concept, the teacher will happily revisit the key points or provide a more structured or concise explanation. As a department, we regularly check how learning is going and discuss good practice for teaching or explaining aspects of the topic that students might potentially have difficulty with.
We also use modelling when it comes to some assessment questions and provide scaffolding for students to enable them to concentrate on the reasoning aspect of their answer. This is often what they struggle with the most, but is one of the most important skills they need to develop to achieve a high level of success.
Key skills
There are many skills that are important in religious studies. One of the key skills involved at all stages of learning in RS is the ability to give reasoned arguments for thoughts, ideas, and opinions. This skill is developed throughout the course at AHS through class discussions and answers to written questions. In both cases the teacher will support the student in understanding what is required of them and how to give reasons for their ideas. In class or small group discussion students will be expected to contribute. Where this may be difficult for them, they are encouraged to seek help either from their peers or from their workbook.
As previously mentioned, with written questions, students will be given varying levels of support. This can range from sentence starters to cloze exercises, or a pre-written answer that needs to be completed or corrected. This helps them to structure their answers correctly. Alternatively, they may be given the knowledge they need to complete their answer but not the structure. Sometimes the teacher will model the answer and explain the process of writing using the whiteboard or visualiser.
Students will have the opportunity to review their own work as well as marking that of their peers. Answers will sometimes be marked as a class using the visualiser. In all this the emphasis is on checking the reasoning or explanation that students have given (both for accuracy and development) and structure, and providing them with the skills they need to improve their ability to do this.
Another skill that is highly important in RS is that of evaluation. This is a skill which is required at GCSE. Usually, a controversial statement will be given for students to consider. They will need to be able to give different points of view about the statement using reasons, evidence and arguments to support their point and then reach a justified conclusion. This skill is taught and monitored in a similar way to that given for reasoning above.
Other skills that are crucial to learning in religious studies include listening and being accepting of the ideas of others and recognising that as individuals we all have different perspectives and world views. Religious studies lessons should provide an inclusive and safe environment for all matters relating to beliefs to be discussed.
Departmental review
All the above is discussed regularly at our department meetings. Apart from discussing the progress of individual students, this time is also used for sharing good practice and for reviewing things that have gone well in the classroom alongside those things that might need improvement. Changes are made to our lesson plans, workbooks and units of work whenever we feel they are required. Around the time of assessments, we aim to moderate student work to ensure consistency in marking and feedback and a sample of student workbooks is also moderated once during each topic. Resources are shared across the department to ensure all students have the same access to high quality teaching materials.
Updated September 2022