AHS Young Chamber trip to London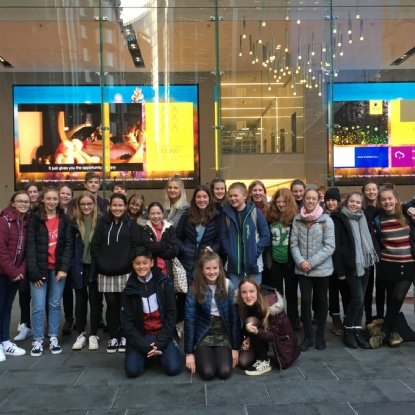 On the 6th of December 2019, the AHS Young Chamber went to London
On the 6th of December 2019, the AHS Young Chamber went to London. We went to lots of interesting places and I'm sure that everyone, student or staff member had a great time and learnt something new.
Around 30 students went to London, accompanied by: Miss Evans, Mrs Auber and Mr Turrell. We all took the train from Norwich Station to London Liverpool Street, and walked to the Bank of England Museum. We explored the Museum, trying out the interactive screens, money related challenges, and safe cracking; some of us even got to hold a bar of gold!
After completing an activity sheet and claiming a metallic gold Bank of England pen, we left, on our way to the Aviva Headquarters for lunch and a talk from the Aviva employees.
On arrival, we were given lanyards and went up in the lift to highest floor in the building. Whilst eating our lunch, we admired the view of the London skyline and took lots of photos. Finally, we settled down in our seats to listen to Sam and James talk to us about Aviva, what they do, apprenticeships and then we asked a lot of questions. Once they had finished, we asked a few more questions, took a few more photos, and then headed down in the lift to the lobby. We said goodbye to our hosts and then went outside.
Once outside, we walked to the underground and took the tube to the Houses of Parliament. We went through security and into Westminster Hall. After a few minutes, our tour guides came and took us through. We went into the House of Commons first, although we weren't allowed to sit on the seats! We learnt about what happened in the sessions and then we went into the House of Lords, and we learnt about what kind of people were in the rooms and how we could become one if we wanted to! The House of Lords was much more ornate than the House of Commons, with a gold chair for the queen to sit on when she visited the Houses once a year. We even learnt that Michael Jackson tried to buy the chair once – without much success! After our tours, we went to the Gift Shop, where many people bought some lavish gifts. We then continued on to the tube to go back to Liverpool Street Station, for dinner.
After we had got some food in our bellies, we hopped on the train, tired and bursting with newfound knowledge, we departed the station, on our way home. And that was our trip. We all had a really good day, meeting some friendly and interesting people and learning some wonderful things. We hope to open our doors to offer more wonderful opportunities like this to younger students, or students who haven't had the chance to get involved in the Young Chamber. We are excited to see what will come in the future and hope that other people will be as generous as the people we met that day and we were very fortunate to be able to take part.
Poppy Spalding
Year 8