Auction of Promises and Treats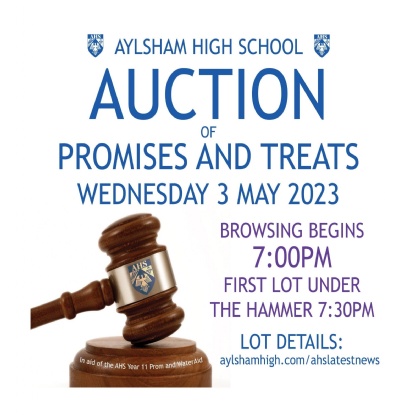 Aylsham High School celebrates each year 11 group leaving school with an event called The Prom to mark the end of their time with us. This takes place this year on Saturday 1st July at Mannington Hall. The ticket price covers all the basics such as venue, marquee and food & drink.
However, we raise funds throughout the year to enjoy the extras such as chocolate fountain, decorations, hire of dance floor, etc which make the evening the special and significant event we hope it is for our students. We also like to donate a portion of funds raised to our designated charity, Water Aid, where possible.
Our final major fundraiser this year is An Auction of Promises and Treats to be held at the High School on Wednesday 3rd May at 7 pm.
We would very much like to invite you to come along and support us while bagging a bargain! We have had many generous donations of Lots from the local community and far beyond. Below is a list of some of the attractions on offer next Wednesday. Refreshments will also be available to accompany the delight of a winning bid! Many thanks to Mr Tom Corfield of Arnolds Keys for agreeing to be our Auctioneer for the evening.
Lots include (updated 1.30pm Wednesday 3rd May):
Brand new large dog cage (with inhabitant, Fluffy – not alive, and to be auctioned separately!)
Fluffy the dog
A framed Rory Kent original watercolour painting.
2x vouchers for 4 people for a personal tour of Mannington Hall and gardens (donated by Lady Walpole).
1 hour of gardening (donated by an advanced qualified gardener of 20 years' experience).
1 hour of cleaning (donated by a mum of three and 'of an age', so many years of experience –her words!).
2 x brand new boxed Nespresso Gusto coffee machines.
An evening of baby-sitting (donated by two experienced babysitters who work as a pair).
A brand new office chair (RRP £80+VAT donated by Millar West Office Interiors).
A box of fresh fruit and vegetables (donated by Harvest of Aysham)
An evening of Bushcraft Butchery (donated by Coxford's butchers)
A portrait to your commission of pet or person (donated by Miss Jo Bates who works from photographs as well – Check out her website)
£50 voucher for Bann Thai restaurant and takeaway in Cromer (donated by Ashley Hale)
Afternoon Tea for Two at Sprowston Manor Hotel (donated by R Craynor)
Four Ball 18 hole Round of Golf for 4 People at Sprowston Manor Hotel (donated by R.Craynor)
3 hrs gardening by Joe, 'the Norfolk Gardener' experienced in all types of gardening, specializes in roses, fruit trees and garden design

Rugby ball with some England Team signatures

2 x mens' Prom suits and shoes

2 x 2 free entry vouchers for Thrigby Wildlife Gardens

Case of 6 different speciality ciders (donated by Perry's Cider Mills, Dowlish Wake, Somerset)

Selection of scented candles

Set of 4 brand new BT cordless telephones (boxed)

Exercise machine

4 pictures in 1 box brand new jigsaw (donated by Mr & Mrs M. Mears)

Copy of 'Fry's Ties" – to be dedicated personally to the winner of this Lot (or to whom they wish it to be dedicated), signed by Stephen Fry and sent directly to them (donated by Stephen Fry)

Large IKEA stuffed brown bear (RRP £29)

Large IKEA stuffed panda (RRP (RRP £17)

Selection of second hand crime novels

£25 voucher + complimentary bottle of Pino Grigio from The Plough at Marsham

£30 voucher for The New Forge (English Thai fusion) at Aylsham

£25 voucher for The Black Boys at Aylsham or any of the Four Colchester inns in the area

£15 voucher for Urban Clay Pottery studio & Café

Hama Bluetooth Speaker (RRP £25 donated by Postle's of Aylsham)

Wizarding Worlds Mystery Box (minimum 8 items within) donated by TV & Movie Store, Norwich) RRP £25

£20 voucher for Bread Source

A 2 NIGHT STAY at a holiday home which accommodates 6-7 people in COLTISHALL over the w/e of 28th-30th July 2023

Ceramic 'Forever Friends' picture frame (RRP £6)

A Summer Night In with a bottle of red (Malbec), a bottle of Italian rosé spumante and a bottle of Aspall's Imperial cyder.
We look forward to seeing you there!!!