Memorial Blickling Park Run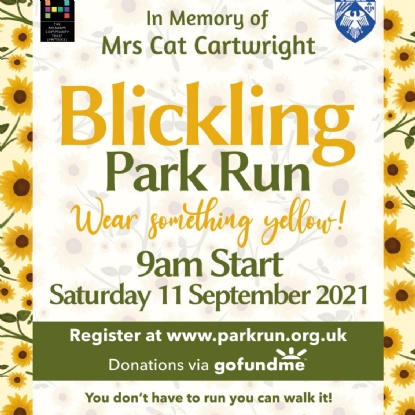 On the 11 September 2021 at Blickling Hall we have organised a 5k run in conjunction with 'Park run' in memory of Mrs Cat Cartwright
The idea for this event has come from ex-students Mollie & Ellie who asked us to support them with the organisation of it. We would very much like you and your families to get involved and support us if possible.
You don't have to run the event you can walk it if you prefer. Just be there & wear something yellow.
You would need to register with the park run & make a donation on the Just Giving page please if you can.
Together with Ellie and Mollie we have chosen two charities:
Young Minds Mental Health & TACT are own school charity that supports young people with mental health.
Link to registering to Park Run:https://www.parkrun.org.uk/register/