Information shared via SIMS Student
Please click on the arrow below next to each heading to view the guidance.
student information page
The first page you see when you first log in shows you a button to view the following information:
Attendance
Conduct – achievements and behaviour, homework completion
Homework
Timetable
Reports (reports and some letters)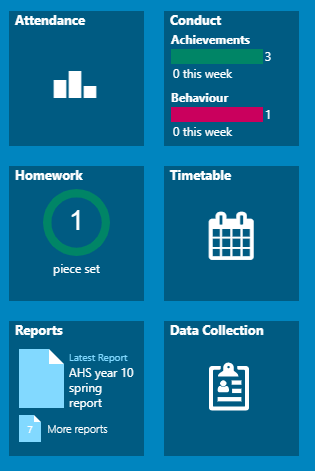 attendance
Each lesson you are registered by your teacher. If you are late to lessons you will be marked as late.
In school we operate an electronic registration system. Your attendance is calculated using the session marks for AM (period 1) and PM (period 4) roll call.
A year to date percentage attendance e.g. 97.4% is then calculated based on the number of sessions attended out of a possible number of sessions the school has been open.
Please note, the graph shows your attendance percentage for the term and not since September.
On SIMS Student, you are able to click on the attendance button to view your attendance. This shows in a diary format to show by AM and PM whether you are in school for each week.

If you scroll down you can see the past weeks' attendance as well as the current week.
The attendance is displayed as:
Attended (tick) - This will be recorded for all students who register as present in their first period lesson and their fourth period lesson after lunch.
Absence (cross) - Shows that the student has been marked absent. If the school does not receive a reason for absence or response to Absence call (automated absence call/text), the absence will be recorded as unauthorised.
Your parent/carer needs to contact the school to let them know that you are unable to come into school.
conduct
This section provides you with a list of your achievement and behaviour incidents. These are shown in a diary format with green entries being achievements and red entries being behaviour incidents.

Achievement
This contains information of the achievement points which you have received. These include:
Citizenship
Creativity
Enterprise
Leadership
Learning
Sports
Behaviour
This contains information of the behaviour events which have been assigned to you. These include yellow, orange and red events. This includes the date of the event, the lesson information, the type, comments about the event, and the action taken.
Please speak to your form tutor about your achievements and behaviours if you need to. They are there to support you.
homework
SIMS Student Homework operates as a homework diary showing you the homework you have been set.
Each homework entry will contain:
the name of the subject for which homework has been set;
a brief explanation of the homework task;
a link to any resources that are required to help you complete the homework; and
the due date for the homework.
How to access homework on SIMS Student
To access your homework, click on homework which shows the number of homework set. Click on the homework button to see the list of homework. Click on the homework set to see their homework task.

For details about notifications about homework being completed, please see the section below.
HOMEWORK COMPLETION INFORMATION (in conduct section)
All homework will be shared with students, families/carers via SIMS Student and SIMS Parent.
Homework section

Details of the homework task and deadline dates

Homework from all subjects can be found here

Messages section

Each individual homework task and deadline can be viewed.
Our advice is for alerts to be turned on in SIMS Parent/Student so that reminders can be viewed.

Successfully completed homework will be recognised and rewarded.

We feel it is important to let students and families know when homework has been completed to support our work together.
| | |
| --- | --- |
| Conduct section | A message (written in green text) will let you know the homework completed for each subject. |
| Messages section | This will contain a completion summary for homework. |
What if homework does not go to plan?
If homework is not completed by the deadline, a message will be sent via SIMS Student/Parent.

Students may be given an extension to complete the work.

This information is shared to support our work together so that we can help your child complete their homework.
The homework completion information shows as:
Within the conduct section, the homework completion information shows as:
Homework completed (green +3)
Homework completed late (green)
Homework not completed (red)
Homework completed but not the expected standard (red)
Further information about homework completion can be viewed in this video: https://youtu.be/5XRSiYhRoj8?si=tNPKJWLp6belbVdK
Homework clubs
Some students may wish to take advantage of the resources and space we have at school to complete their homework. To help with this we will be offering supervised homework clubs at the times and locations shown below. In these clubs, students will have access to computers and the internet to support their learning.
| | |
| --- | --- |
| Before school | Room 38 (Computing room) |
| Break time | Room 38 (Computing room) |
| After school 3.30pm to 4.30pm Monday to Thursday | Library |
Questions about homework
If you have any questions about homework, please speak to your teacher for that subject or your form tutor.
timetable
Your timetable shows in a diary format and shows your timetable each day from today for the next two weeks. The weeks of the timetable can be viewed in the diary.
Tuesday and Thursday are option days for years 9-11
Students in years 7 and 8 complete DT, drama and food lessons in a rotation. Information about the rotation dates can be found here: /yr7andyr8rotationsubjects
If you have a question about your timetable, please visit the STAR office to speak to a member of staff in this office.
reports
Each term a report is shared for you via SIMS Parent. On the day the reports are published you will receive a SIMS Student message to let you know that these are available. We will also send an email to your parent/carer.
The reports are shared via SIMS Student as a PDF document. This allows you to view the report and also print and save the document.
In the document the first two or three pages are the report letter and the following page(s) contain the report. The letter explains the contents of the report and provides details of any parents' evenings for you and your family.
The report widget shows your latest report and the number of additional reports. If you have not yet read your latest report this will show 'NEW' in the image.
How to access the reports on SIMS Student
To view your reports, click Reports.
This will display a list of the reports which have been uploaded by the school for you. These are listed by academic year.
The reports will expire on 31 August of the year you will leave the school in year 11.
Click on the name of the report to open this in your internet browser.
You can also the print/save the report. Depending on which internet browser you are using, you may need to right-click to print/save or use the menu at the top.

Queries relating to your school report
If you have any queries about the information contained in your child's report, please speak to your form tutor.
sims options
During January and February each year, years 8-10 students will choose their option subjects via SIMS Options. For further information, please see the options section of the website.
https://www.aylshamhigh.com/optionchoices
We will hold assemblies for students in years 8-10 about their option choices.
privacy policy from sims
The privacy policy from SIMS is available from the menu in SIMS Student app and the bottom corner on the SIMS Student website.
signing out
To log out of SIMS Student, click the Sign Out button at the top right-hand side of the page and click the Yes button to confirm.